Contact Us for any ground transportation questions you may have at JFK Airport
all the flight terminal information about JFK Airport / click on link above
JFK Airport has six operative terminals numbered 1–8, skipping Terminal 3 and 6, which were demolished in 2011 and 2013 after Terminal 5 was expanded.
JFK TERMINAL MAP flights to JFK Airport
The terminals buildings are arranged in a O-shaped pattern around a central area containing parking, a power plant, and other airport facilities. The terminals are connected by the AirTrain system and access roads. As you can see at this image: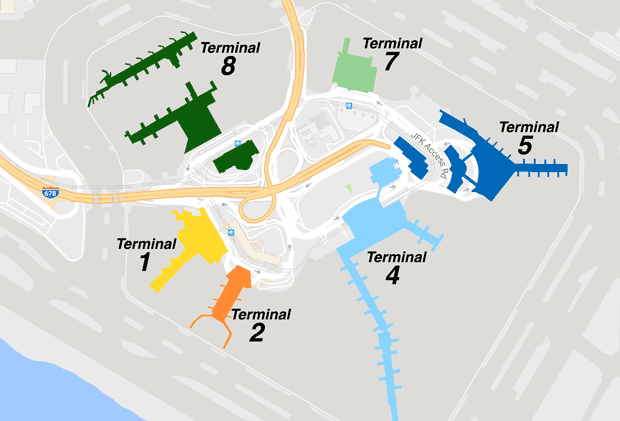 Check the detailed information for each Terminal:
Flights to JFK AIRPORT
JFK TERMINAL 1
Terminal 1 at JFK opened in 1998 and has 11 gates. 
Flights to JFK AIRPORT
JFK TERMINAL 2
Also known as Delta Terminal, it is only used by Delta Airlines. 
Flights to JFK AIRPORT
JFK TERMINAL 4
It operates with a large part of international arrival flights. It has a big shopping mall. 
Flights to JFK AIRPORT
JFK TERMINAL 5
Jet Blue is the biggest company operating at Terminal 5. 
Flights to JFK AIRPORT
JFK TERMINAL 7
This terminal is operated by British Airways. 
Flights to JFK AIRPORT
JFK TERMINAL 8
The biggest terminal of the Airport. It is divided into two concourses. 
Reliable JFK Airport Car Service 1st class Transportation Services
Choosing a transportation company for reliability, quality, and team consisting of professional's chauffeurs can be difficult with so many all transportation companies. At Black Car JFK Airport Limo, our proven track record for quality services is backed by our clients and reviews. To review our performance metrics, click here for our reviews. We offer transportation services for a single airport transfer all the way to large groups traveling in hundreds. Our wide variety of executive fleet is modern, luxurious and is sanitized before and at the end of the ride. We strive to be the best company in New York Black Car transportation company by raising the bar on service.Book Now or call 929-441-6442 for JFK Airport Car Service
Get in touch with us today
We are Black Car JFK Airport Limo and we make sure to get you to your destination on time and in style. Our executive fleet of vehicles offer a wide variety to match any of your travel themes. Whether you are traveling for golfing at Friar's Head, a concert at Jones Beach, or romantic get away to Newport Rhode Island and Montauk or beyond. Trust us for all of your ground transportation needs.
Book Now or call 929-441-6442 for 1st class executive Black Car JFK Airport Car service